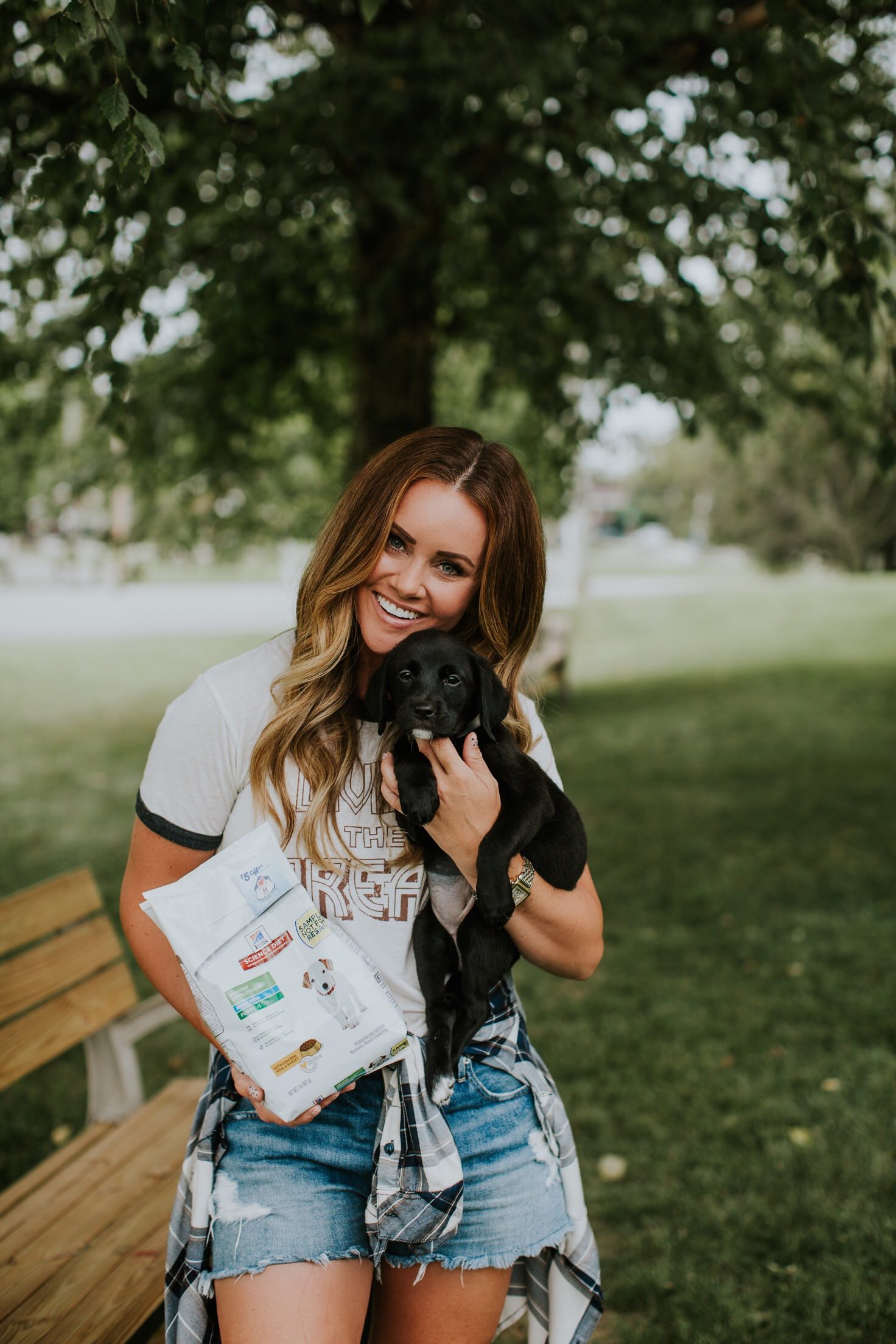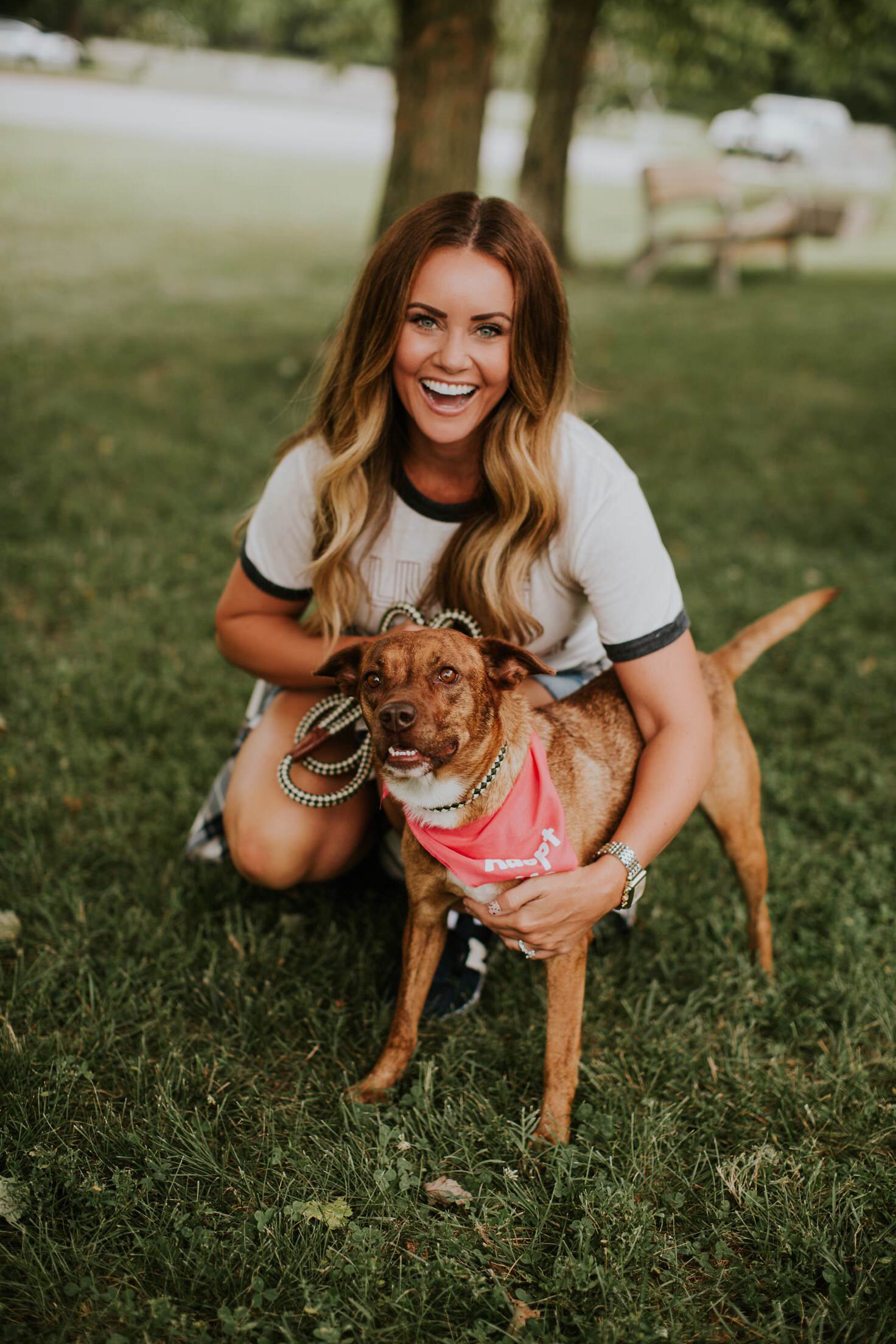 Photography by Erin Trimble
My love for all animals stems back to my early childhood.  For as long as I can remember, I've always fiercely loved and cared for family pets as well as any animal that may have needed a bit of extra love and attention.  I'm the person who won't step on bugs, who will save turtles from crossing the road, who will feed and care for stray cats, who will take dogs in until their rightful owner can be found, the person who will feed deer because I'm afraid they won't have enough to eat, the person whose heart hurts if I ever see an animal alone, unloved, or suffering, and the person who wishes she could adopt, nurture, and care for all animals in need.
Pet adoption is something that will always be a part of our future family plans and one day we will be so thrilled to welcome a new family member into our home!
Adopting an animal and providing it with a loving forever home is one of the best things you can do to make a difference in an animal's life.  So when Hill's Pet Nutrition asked me to partner with them to help spread the word about Clear the Shelters Day, I was thrilled!  I knew this would be my opportunity to help make a difference and spread the word about such an important day…a day that will make a significant impact on the lives of so many deserving animals.
I'm so very impressed with the work that Hill's Pet Nutrition has been doing to transform the lives of so many pets through research and groundbreaking nutrition for dogs and cats.  For more than 15 years, Hill's has supported shelter animals by providing them with excellent nutrition in order to help prepare them for their forever homes.  As part of their Food, Shelter, & Love program, Hill's is sponsoring Clear the Shelters Day which is the largest single-day  adoption event in the country!
Clear the Shelters Day is taking place this Saturday, August 18th!  Hill's Food, Shelter, & Love program has helped over 9 million pets find new homes and they expect to be able to increase that number significantly with a successful adoption day on Saturday!
I had the pleasure of visiting the Kentucky Humane Society and it was so heartwarming to spend time with so many of their adoptable pets.  My heart was so full yet so empty because each and every single one of the animals deserves to have a forever family.  My hope is that we all pull together and help Clear the Shelters this Saturday.  Please help spread the word and if you are considering adopting, now is the time!
The first step to adopting is to find a participating shelter in your area.  Click THIS LINK to search your local area!
If you are thinking about adopting, below are a few things to consider to ensure that you are ready to welcome a new family member into your home.
Understand your motivation to adopt and how a new family member will fit into your current lifestyle.
Ensure that your current living arrangement is stable & equipped to house a new pet.  You will want to make your home feel inviting, safe, & secure.
Evaluate your financial well being to ensure that you can incur the expenses that come along with welcoming a new family member such as veterinary care, food, pet toys & supplies, grooming, etc.  Ensure that you are prepared to care for your new family member for the rest of its life.
Do your homework and have a very good understanding of what type of pet will fit nicely into your family.  Take into consideration the size of the animal, how much exercise & activity the animal will require, the animal's demeanor/personality, and you should also have a good understanding of the breed and/or breeds (if mixed).
Spend time interacting and visiting with more than one animal at the shelter.  Many of the animals are timid and scared so you will need to remain patient and build a bit of trust.  Once you have identified your new pet, have your other family members interact with him/her as well.
Adopting a new pet is an important decision and it is also one of the most exciting decisions you will make!  So many of you shared your personal pet adoption stories with me and I wanted to share some of those here.  It is truly so amazing and very heartwarming to know that so many of you have opened your hearts and homes to dogs and cats that were in need of a forever home.  What I've realized is that so many of you share my deep love for animals and I could not be more proud to know that many have chosen adoption and have given so many special animals a new lease on life.
Melissa says: "We adopted our sweet boxer Mya from Middle TN Boxer rescue and we couldn't have rescued a better dog.  I truly believe rescue dogs appreciate their owners more than any other dogs.  Mya is so great with the kids, very obedient, and our lives have been so much better over this past year we've had her.  Her 4th birthday is this Saturday and we can't wait to celebrate Mya!"
Hannah says: "I decided to adopt my dog, Rory, after my mom adopted her sister and I decided I needed one of my own!  I had just started grad school and was a little nervous about a puppy but she has been the best thing for me.  She helped me through grad school, and just helped me transition to my first job out of my grad program!  Life wouldn't be the same without her, I'm so glad I rescued her.  And it's always a bonus when I go home to my family, she gets to play with her sister who lives with my parents."
Amber says: "I adopted Chloe when she was around 9 months old.  I just moved to NC to be with my husband who was in the army during 9/11.  I was in a new town, no friends, and a stressful job.  And we were at war and my husband was in the military.  She was my faithful companion who helped me through it and provided so much unconditional love.  Over the past 16 years, she has been at my side through highs and lows and I can't imagine her not being in my life.  She can read my moods and knows when I need love.  As she winds down her life, I reflect on the time she's been with me and all she's given me.  While I may have rescued her from a crowded shelter, she is the one who rescued me."
Kimberly says: "I can go on for days about pet adoption!  It is something that is so near and dear to my heart.  We have adopted 3 dogs throughout our marriage and they have all been exactly what our family needed when we found them.  We are lovers of BIG dogs (2 Great Pyrenees and a Great Dane).  Our reason adopting is because there are so many animals who have been tossed aside and just need someone to love them the way they deserve.  There is a different sense of love and appreciation that you get."
Sy says: "Our dog, Gordie, is mine and my husband's absolute everything.  While we were still dating, we always talked about us finally getting a dog, we were long distance (Texas-Canada) so that was our goal once we finally lived under one roof.  He finally moved down last summer and we tied the knot, went on our honeymoon, came back on a Saturday and on Sunday we found ourselves at the adoption center signing paperwork to bring Gordie (formerly Angus) home.  He unfortunately had no paperwork as his previous owner tied him up to a light post outside of the center.  Come to find out, he was tied up the afternoon that we got married- so it was totally meant to be!  The following months, Gordie really got my husband through the biggest transition of his life.  Since he moved from Canada, he left friends, family, and his job behind to start his life down here with me.  There was a time he was unable to work and I would get countless selfies and texts of them both at the park, watching TV, etc.  He really was his best friend when he didn't have anyone down here in his new life.  We like to think that we changed Gordie's life, but honestly Brooke, he changed ours.  We are a little family of three now and have been for just over a year and we wouldn't trade it for anything."
Erin says: "We foster with our local rescue and we've adopted (foster failed) our 2 sweet girls!  We have Lucy and Pearl.  I truly feel that there's an epidemic of homeless dogs in our world and being able to just rescue one or foster one makes such a difference.  It's so rewarding knowing that you're contributing to something that makes a huge difference.  Both are in their senior years now and just seeing the difference we've made in the lives they could've had to the lives they've been able to experience in our home.  They're our family.  My children, really."
Stephanie says: "I live in Asheville and we love our pets!  So that means we have no kill shelters but outside the city that is not the case.  I was going through some serious mental and physical health issues and really wanted my first adult pet.  My better half and I decided to start looking for cats since we live in an apartment.  I saw a post about an issue with overcrowding at a shelter in another county and who if so many pets were not adopted they would be euthanized.  My heart broke.  I drove out all by myself after I got the go ahead from my partner.  It was crowded in the kennels but my sweet  Maeve kept putting her paw out every time I passed by.  Well she ended up coming home with me that day.  I saved her life and she pulled me out of a deep dark hole I was in.  As corny as it is, she really was the light in the dark.  She's feisty and crazy but also the only creature who knows when I need a little extra loving."
Nicole says: "Two rescue dogs and three rescue cats.  Have fostered many special needs pups.  My oldest dog Roxy is 13 years old.  We adopted her from a shelter when she was 2 months old and I trained her to be a certified therapy dog.  I used to take her to hospitals and nursing homes for years during college.  I swear rescue pets know they're rescued and show such appreciation and give extra love."
Liz says: "My husband and I decided to adopt because we wanted to show a dog love that didn't have anyone.  We are dog lovers & had already decided on a name for our dog, Magnolia, before we even got her.  We found this rescue where we live in Greenville, SC and began our search.  We looked for a few weeks and then one night when we were looking through the puppies for adoption, we saw this litter the rescue center had named the "tree litter".  We saw one beautiful brindle boxer, German short haired pointer mix and when we saw her name, we both said THAT'S HER.  The rescue named her Magnolia, the same name we always wanted to name our puppy!  Needless to say, we fell in love with her and she has brought more joy into our lives than we could've imagined!"
As you can see, there are so many reasons to consider adopting and I hope you will!  If you are not in a position to adopt at this time, I do hope you will help spread the word and encourage those who are searching for their next family member to consider visiting their local shelter in an effort to Clear the Shelters this Saturday, August 18th!  We can do this…let's all help make a difference!!!
Thank you Hill's Pet Nutrition for all that they are doing to provide excellent nutrition and to help so many animals find their forever homes and thank you to so many of you for sharing your personal adoption stories!
As always, thank you for letting me open my heart with you all.  I appreciate your ongoing support and I look forward to seeing you back here real soon.